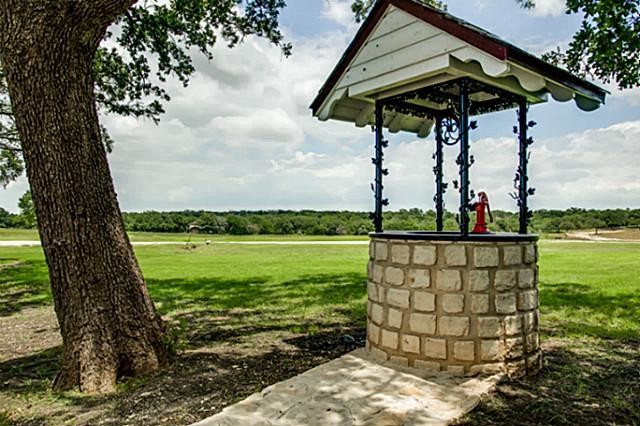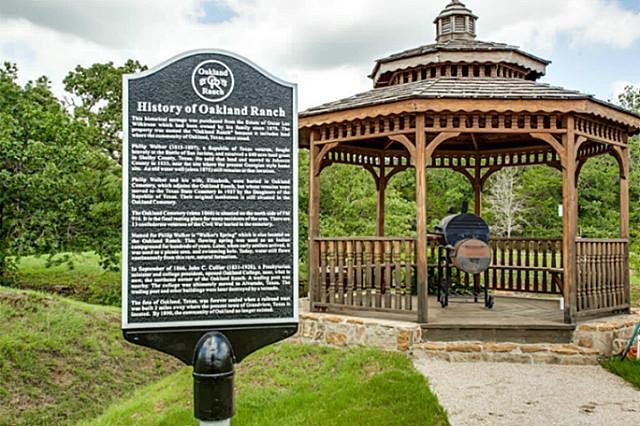 Texas history is rich in the many acre Oakland Ranch in Oakland, Texas. The property was originally owned by Philip Walker and his wife, Elizabeth. 
Philip Walker (1815 - 1897) was a Republic of Texas veteran and fought at the Battle of San Jacinto. Because of his service he received a 6 1 6 acre land grant in Shelby County, Texas. He was smart and sold that land and moved to beautiful Johnson County in 1855.  The Georgian style 10,000+ square foot home sits at the site where Philip and Elizabeth Walker settled over 160 years ago.
An old water well (pictured above) still remains at the location and can be dated back to 1875. There is also a 1000' water well used to irrigate the property.
Oakland Cemetery is next to the ranch and the original tombstones for Philip and Elizabeth Walker remain on the property. The remains were moved to the Texas State Cemetery in 1937 by the Daughters of the Republic of Texas.
The Oakland Cemetery (circa 1866) is situated on the north side of FM 916. It is the final resting place for many residents of the area. There are 13 confederate veterans of the Civil War buried in the cemetery.
This historical acreage was purchased from the Estate of Oscar Lee Wilkirson which had been owned by his family since 1875. The property was named the "Oakland Ranch" because it includes land where the community of Oakland, Texas, once stood.
Named for Phillip Walker is "Walker's Spring" which is also located on the Oakland Ranch. This flowing spring was used as a campground for hundreds of years by Native Americans. Later, when early settlers arrived, it was used as a picnic area and swimming hole. Today, water still flows continuously from this rare, natural formation.
In September of 1866, John G. Collier (1834-1928), a Presbyterian minister and college president, opened Oakland College, near, what is now, the northeast corner of the Oakland Ranch. A trading post was nearby. The college was ultimately moved to Alvarado, Texas. The trading post and other buildings were later destroyed by a tornado.
The fate of Oakland, Texas, was forever sealed when a railroad track was built 3 miles away where the present town of Grandview, Texas is located. By 1890, the community of Oakland no longer existed.